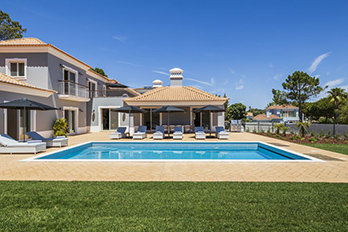 Villa Eclair is a brand new villa located in Encosta do Lago. With a large private swimming pool and great outdoor barbeque area, it is sure to be a top choice for 2020. Villa Eclair is located a short stroll from Quinta do Lago lake with a host of water sports on offer and two great restaurants. A further ten minutes' walk will take you to Quinta do Lago's beautiful sandy beach.
Villa White Rock is a modern and contemporary villa located in Quinta Verde. Quinta Verde is within easy walking distance of Quinta do Lago shopping plaza with it's many designer boutiques, bars and restaurants. This five-star villa has a private swimming pool, private jacuzzi and games room making it the perfect base for a holiday in the Algarve.
Located in the Lakeside Village resort of Quinta do Lago, Villa Colina is a top choice for families with young children. It's private pool is gated for child safety and can be heated against an extra charge. The beach and Quinta do Lago plaza are a short drive away.
This large 6 bedroom villa is located close to Quinta do Lago beach. Two bedrooms are in the main house and the remaining four are doted around a courtyard offering extra privacy for families with older children. Villa X has one of the best terraces in Quinta do Lago with beautiful plants and trees.
Villa Cosmic is a large 5 bedroom villa located in the Planalto area of Quinta do Lago. It is located within walking distance to KoKo lane restaurant and the driving range. A real feature of this beautiful villa is the entrance hallway with marble flooring and double staircase. The lower level of the villa has a games room with pool table and table tennis.